ACTIVITIES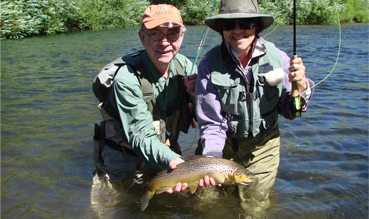 Fly Fishing
The crystal clear fly fishing waters which cross the property such as the Quillén river, Quillén lake, Malalco spring creek are home to rainbow, brown & brook trout, and are very easy to wade. The Aluminé fly fishing river, 20' from the River Lodge, offers the possibility of one or two days fly fishing float trip. These waters offer varied fly fishing conditions, with runs, pools, and long productive flats which are ideal for dry fly fishing.
We encourage fly fishing only and adhere to the principle of catch & release Fly Fishing Season starts in November and lasts until May (late spring, summer and fall in Argentina).
In early and late season we usually have chilly mornings and evenings but pleasant temperatures at mid-day. During mid-season we generally experience cool mornings and evenings and warm to hot middays.
See images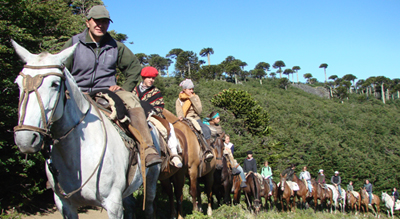 Other activities
Excellent activities for non fishing guests: horseback rides, cattle drives, backpacking, hiking, canoeing, river rafting, camping, lake trips, windsurfing, fly fishing lessons, visits to Indian reservations and remote areas. Non-fishing wives and guests are also most welcome. This strategically located place offers the possibility of many different activities in Patagonia's best climate.
See images